Stay tuned: with the return of the good weather, we are preparing a tour of the most beautiful anchorages in France. First stop: Brittany, TEMO's birthplace, where hundreds of idyllic spots await you. From the Ebihens archipelago to Belle-Ile, check out the great places that you can visit with your TEMO.
1. Explore the Ebihens archipelago
The jewel of the Côtes d'Armor, the Ebihens archipelago covers about 20 hectares north of Saint-Jacut-de-la-Mer. To the south-east of the island, between the Pointe de la Chapelle and the Jumeliaux rocks, lies a peaceful bay with turquoise waters. In less than an hour, you can discover this multifaceted island. Between the moors, the undergrowth and the white sandy beaches, you will discover a Vauban tower, a chapel and a few houses. Stick to the paths: the owners of the island are fighting to preserve the natural and historical heritage of this exceptional place. At low tide, you can even walk to the mainland!


Features :
Mooring on anchor, well sheltered from northerly, westerly and south-westerly winds. Be careful, the sea in this anchorage goes right out at low tide! Keelboats can moor a little further up, on the east coast of the main island.

2. Stay in "La Chambre" on the island of Bréhat
Its name alone is an invitation to peace and tranquility! "La Chambre" is located in the south of the island, in a small corridor between Brehat and its neighbor Logodec. The buoys enable you to easily get to the island via the slipway. What is striking on Bréhat, is that at every corner, the view is more beautiful and the gardens more floral. There are a few convenience stores, bars and restaurants that make it a very pleasant stopover indeed.

Features :
Mooring on buoys, which need to be paid for in season. Good protection from the northeast winds.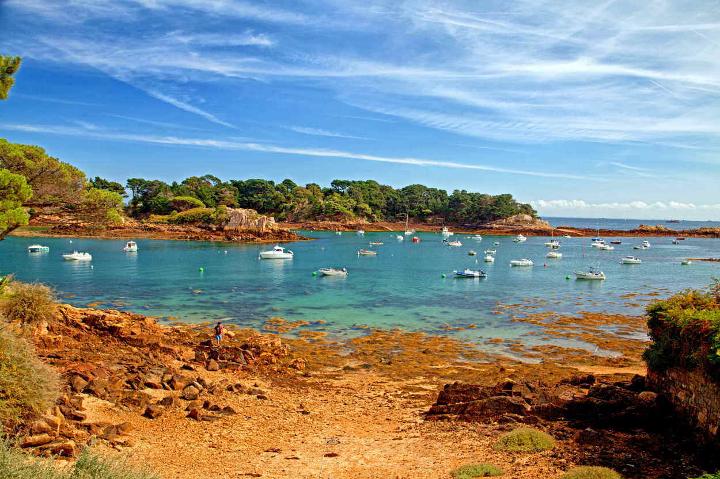 3. Enjoy the tranquility of the Abers region

Are you looking for authenticity? In the extreme northwest of Finistère, Aber Benoît and Aber Wrac'h carve out the coastline, offering peaceful stopovers for boaters. This fascinating region reveals its personality somewhere between the land and the sea, shaped by the elements. You can go up the Aber Wrac'h to Paluden to enjoy the charm of the village. Nature lovers will appreciate the calm of the Aber Benoît: once past its choppy inlet, you can serenely drop anchor or use a mooring post for a peaceful night. Don't forget to try the local oysters, renowned for over a century for their unique nutty flavor and lingering aftertaste.

Features:
Paid anchorage on a mooring post. Mooring is also possible towards the far end of the Aber Benoît. Sheltered in all weathers.
4. Diving in translucent waters south of Crozon

Crozon, Finistère. To the south-west, a rocky outcrop leads to the Cap de la Chèvre. Heading east, about halfway between the cape and Morgat, you will find yourself at Ile Vierge. Except that this particular island is in fact a peninsula that harbors caves that can be explored at low tide... explorers beware! Translucent water, steep landscapes, wild beaches and bucolic walks: a 100% natural stopover that is not to be missed.

Features
Mooring on anchor. The cove of Saint-Norgard offers good protection from the north and northwest winds. To the north of Ile Vierge, the cove of Saint-Hernot is ideal for sheltering from the westerly winds.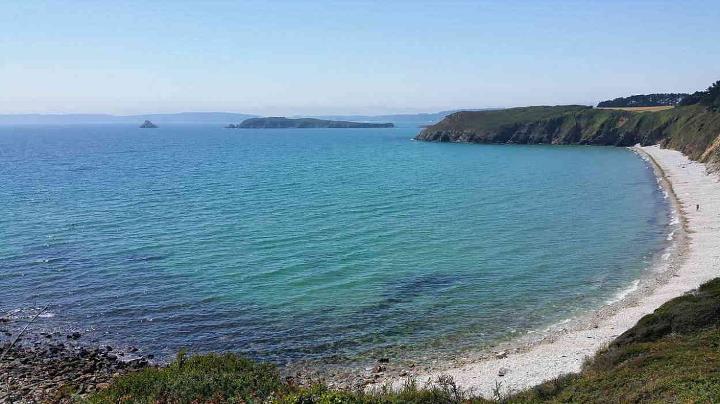 5. Les Glénan : a night in "Tahiti in Brittany"

In the heart of the archipelago, "La Chambre" meets all the requirements for an excellent night's stay. Located near the island of Saint-Nicolas, it will allow you to wander around the island or why not have a drink on the terrace of one of the archipelago's two restaurants. Paradise beaches and postcard sunsets guaranteed !

Characteristics :
Mouillage sur ancre. Mouillage sur bouée payant. « La Chambre » vous mettra à l'abri des vents de nord-est, nord et nord-ouest. De l'autre côté de l'île Saint-Nicolas, « La Pie » offre une excellente alternative par vent d'ouest, de sud et de sud-est. Ces endroits sont très prisés à la belle saison : si vous voulez y passer la nuit, arrivez tôt !
6. North of Belle-Ile, Stêr-Vraz and Stêr-Ouen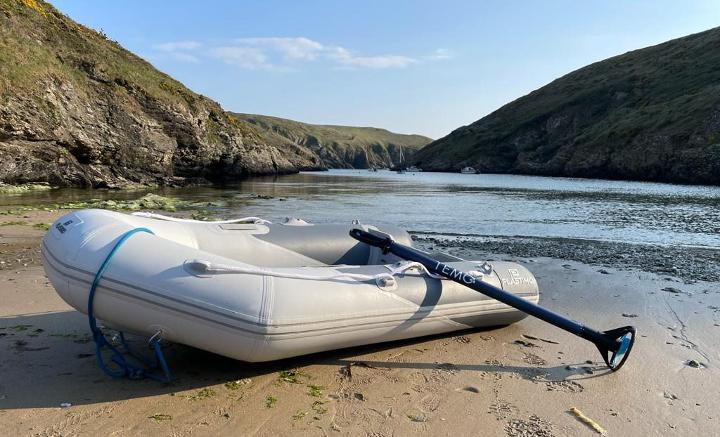 Les stêrs – rivière en breton – The stêrs - river in Breton - are perfect refuges for boaters. Those in the north of Belle-Ile offer good protection against the prevailing winds, in a superb setting. Lovers of fine sand will be enchanted by the beach of Stêr-Vraz. This stopover can also be the starting point for a hike to the Pointe des Poulains where you can enjoy a breathtaking view.

Characteristics :
Mooring on anchor. Stêr-Vraz : good protection from easterly and southerly winds. Stêr-Ouen is narrower, but also has some mooring lines on land and protects from westerly to north-easterly winds.

Anchoring in Brittany with TEMO
All these anchorages are less than 300 meters from the mainland: with your TEMO-450, you can easily make 3 round trips. If in some places, there are rocks or only a beach for mooring, remember that with your TEMO-450, you can " beach". There' s no need to lift your engine in the last few meters and finish rowing, as it works in just 20 cm of draft. Once you arrive at the beach, you can attach your TEMO-450 to the handle of your dinghy with the anti-theft device and then go for a walk or do a bit of shopping.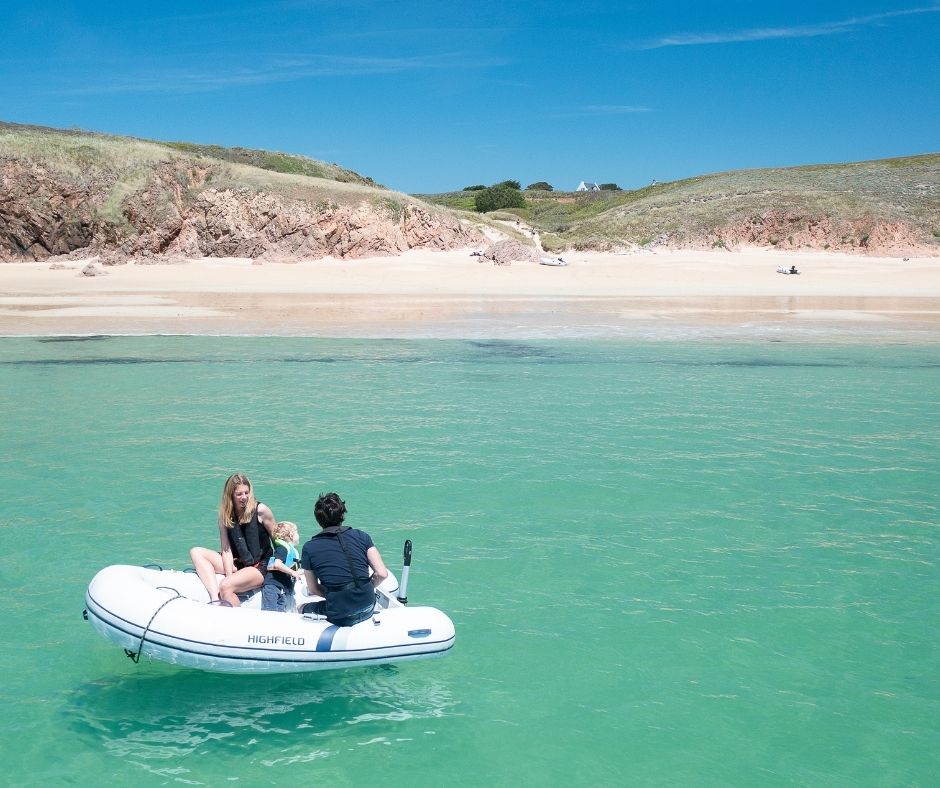 In short, with TEMO you can enjoy your mooring with complete peace of mind !
It's hard to choose between all of these magnificent landscapes! In a bay, the mouth of a river, or in the heart of an archipelago: these are some of the anchorages that have made a lasting impression on us in Brittany. So get your dinghy out and attach your TEMO: it's time to discover your little corner of this Breton paradise !

And you, what are your favorite anchorages in Brittany ?
Sources : Thanks to Navily, the innovative coastal guide for finding the best anchorages and to easily reserve moorings.

This information is given as an indication only and is subject to change. Weather forecasts and nautical charts should be consulted
​Este artículo está disponible en inglés o francés