Explaining electric propulsion to Boomers!


Trottinettes, vélos et même voitures électriques se fondent peu à peu dans notre quotidien. Immanquablement nos activités nautiques ne pouvaient échapper à une

telle (R)évolution

. The TEMO adventure began in 2018 and we've already delivered more than 1,500 of our electric motors (as at the end of 2021). But such an innovative product invariably provokes a flood of questions, as people have many unknowns and sometimes even a little misinformation. So, in this article, we'll explain all. 
Electric motor : equivalence and précisions 

---
Light in weight (at just 5 kg) and therefore very easy to transport, the TEMO is the ideal ally to reach your beautiful boat which is waiting for you out on its mooring or at anchor. No unpleasant smell, no risk of leaking anything in your cockpit or the trunk of your car. You'll quickly forget all about the that combustion engine you had that weighed a good 15 kg for the same amount of power. Yes, because although mathematically the TEMO is equivalent to 0,7 HP, in reality its thrust reaches 12 kg, and with its superior torque, its more efficient propeller designed by Naval Group and its immediately available power, it is more like the equivalent of a 2,5 HP. That's because an electric motor has an efficiency of over 90 %, while a combustion engine is never used at its maximum speed. It therefore only delivers 70 % to 80 % of its rated power at best. Another 10 % is lost between the crankshaft and the propeller (driveshaft, gearbox, impeller, etc.) Better still, the Temo's torque is immediately available, whereas a combustion engine needs to reach at least 60 % of its maximum speed. To sum up, remember that 1 kW of electric power corresponds to 2 HP of internal combustion engine power and 3 HP when it comes to torque.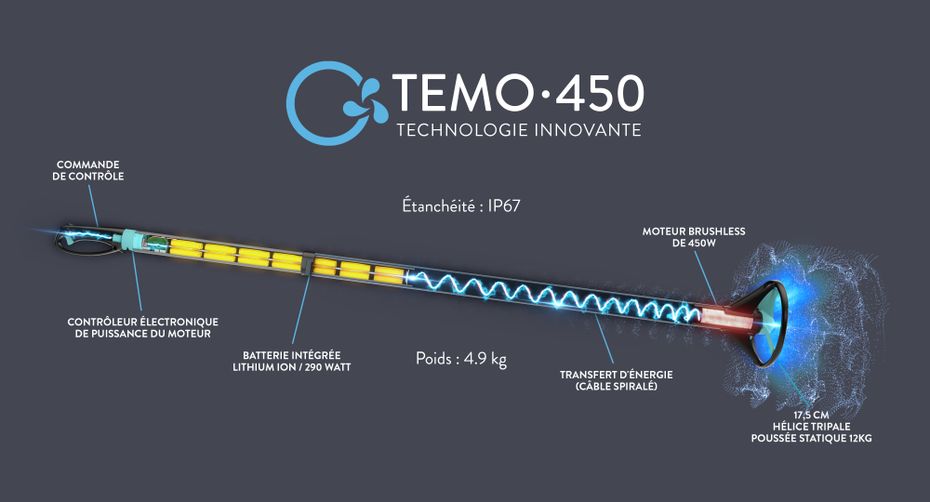 The proven efficiency of the electric motor
But once your family is aboard your 2,5 metre dinghy, midway from the shore to your lovely boat, a common doubt comes to mind.  What if the battery gives up on me?  In reality, there is no greater risk of running out of battery than running out of fuel. So if, like a good sailor, you're always carrying a pair of paddles with you, you should know that the TEMO has an average range of one hour, and that a luminous gauge informs you in real time of the remaining power. Of course, the lighter your finger is on the accelerator trigger, the longer your electric motor will propel you. On average, this corresponds to three days of cruising use without refuelling, or more precisely without needing to recharge. Forget about heading to the fuel dock, or a jerrican, or the tricky fuel transfer. TEMO can be recharged in 3½ hours from a regular socket/outlet or even on board thanks to its 12 V inverter.
Self-sufficiency, simplicity, safety... what else?

Tied up to the stern of the most beautiful boat in the world (yours) it's time for the transfer. Your TEMO will be better off on board  in its protective coverthan lying in the bottom of the tender. But who's never let anything slip between the sugarscoop and the dinghy? But if you do manage to drop it overboard, electricity and seawater don't mix very well, apparently. In reality, the TEMO is waterproof, to IP67 standard to be precise. Its monobloc architecture, with its integrated battery designed to avoid any degradation in connectivity, is built with this in mind. But that's not all, with its  buoyancy kitin case of an untimely slip, your TEMO floats. Forget the nightmare of having your outboard motor lying on the bottom in the crystal-clear waters of your favourite anchorage. And if you have to leave the TEMO and your dinghy on the beach, on the boat ramp or slipway, or on the pontoon, anyone light-fingered and envying this beautiful object designed by Christophe Chedal Anglay will be out of luck.  Between the  anti-theft  and the magnetic key,  traditional precautions and modern technology are brought together so that you can enjoy your stopovers with total peace of mind. Find all TEMO accessories.


Ecological in use - and even after!
Maybe there's one last point that's bothering you, however. While you're delighted with the use of this electric propeller, and particularly its ecological impact (total absence of noise and emissions), you're concerned about the future of its lithium-ion battery. Isn't that likely to pollute more at the end of its life than it has saved during its use? This is a debate taking place in the public sphere, notably in the automotive industry, where the volume of batteries is of course much greater. As their production is also very energy-consuming, it is imperative to extend their life span as much as possible and even more so to know how to recycle them efficiently. The stakes are therefore much higher than for your TEMO, but at the same time, as an item of equipment that's completely in tune with the times, it has not escaped having a serious eco-design approach. Thanks to various technologies, the recycling rate of lithium batteries in France is now over 65 % and this percentage is growing4. Better still, today's hydrometallurgy techniques make it possible to recycle 95 % of a battery's components. In the meantime, batteries that have been declared no longer fit for mobile use, currently after ten years or so, when their capacity has dropped to 70 %, can then be used for stationary storage.  
The grief involved in starting a regular outboard motor – getting the choke right, pulling the cord to the point of dislocating your shoulder, the fuel mix, backache, smelly smoke and greasy fumes in your wake seem a world away. No need to be only one on board with the experience to get it going. The whole family has fallen in love with TEMO. Young and old, men, women and children use it every day and have quickly forgotten what life was like before.  
So does that make things a bit clearer?   Here is the english FAQ  with plenty of information about TEMO
If you've still got any queries, please don't hesitate to comment on this article, which we hope to broaden in response to your questions!